BE SURE YOU HAVE ALL THE PARTS!! An illustrated parts list is packed in the #1 frame carton. Before drilling any holes in your pool ledge, check this list for the specific parts of the frame and their quantities.
NOTE: Fabrico Sun Dome come in many sizes, both round and oval shapes, to fit most pools, so the number of parts may vary.

BE SURE YOU HAVE THE NECESSARY TOOLS: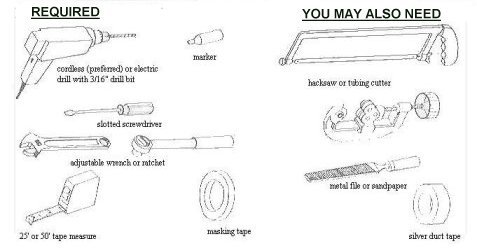 PREPARATION FOR THE INSTALLATION OF YOUR SUN DOME
STEP 1: MEASURE YOUR POOL TO CHECK FOR VARIATIONS
IMPORTANT: Your pool may not be exactly round or in the case of an oval pool may be bowed out on one or both sides. You may need to trim or extend the opposite rafters to be sure that they fit together equally from side to side.
A. In order to determine whether or not your pool is "out-of-round" you must measure your pool. Use your tape measure (25' or 50' depending on the size of your pool) to measure across the pool, the distance from the edge of each vertical support opposite (or near opposite) each other. Be sure to place the tape on the center edge of the top cap on each vertical support. See Figure 2 below.
B. Use an indelible marker to write each measurement on masking tape or on the vertical support cap and on your pool diagram. You will need to save these measurements for future installations of your Sun Dome. A blank sample pool diagram has been provided for you on the next page to mark down all of your measurements. See Figure 2 below.
C. When you have measured all the way around the pool, number the measurements from the longest distance to the shortest distance, starting with number 1. Mark these numbers, starting with 1, on masking tape or on the vertical support cap and also on you pool diagram. See Figure 2 below.