STEP 3: ASSEMBLE AND INSTALL THE RAFTERS (ROUND POOLS)
A. On the ground next to the pool, assemble all rafters. (Refer to the illustrated parts list for an an example of your dome) Most assemblies will resemble the example shown in Figure 8.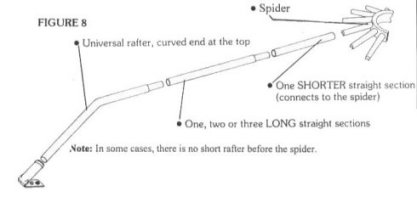 CAUTION!!!
Check the top of the spider for burrs or rough spots on the casting. If you find any, file or sand them smooth with a file or sandpaper. Rough spots or burrs can damage the vinyl cover.
B. Before installing any rafters, you must now refer back to the measurements that you took across the pool. Find your longest distance across the pool from vertical support to vertical support. This is where you will put up your first set of rafters.
C. Place two rafter assemblies opposite each other on the spider.
Helpful tip: Tape the first set of rafters on to the spider with silver duct tape to prevent them from turning or falling out while you are putting them up.
D. With one person holding each rafter end and pushing towards the spider, carfully lift and walk the assembley over the pool at the longest measurement. Place the rafters in the mounting brackets. See Figure 9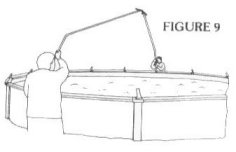 Helpful tip: Taping each joining point of the rafter set, with silver duct tape, will make it much easier to install.