The Rayner Premier Series Spa Covers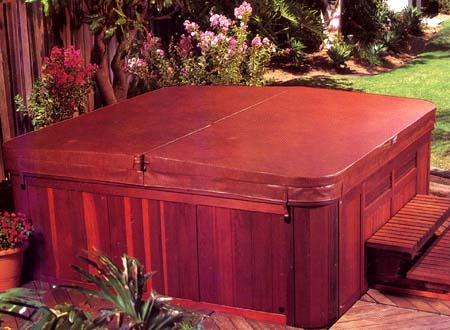 Did you know that a good insulating Spa Cover can pay for itself in as little as 6 months! These, our most popular spa covers, designed for strength, durability and longevity are constructed of the Finest Materials available. They also have one of the longest Warranties (5 years) in the industry!
Many older, and some of the cheaper spa covers are made of a flat foam (or foam with less taper) which will allow water to collect on the hinge area, causing the cover to sag, allowing more water to collect, eventually damaging the cover.
Our Spa Cover Foam is then wrapped in a 6 mil polyethylene sheeting that is heat sealed to prevent water absorption. Many cheaper spa cover manufacturers tape the poly sheeting closed to save costs, but eventually the tape fails and the cover will start absorbing water, getting heavier and heavier. As an option, the foam can be doubled wrapped for extra protection from water absorption.
The outer covering of you Spa Cover can be made out of Sunbrella or Marine Vinyl. The Sunbrella fabric resists sunlight, mildew, rot, and spa chemicals. It's available in your choice of different colors and is sewn together with a highly UV inhibited commercial thread which will not mildew or rot like some cheaper covers. There's even reinforced handles for easy removal from your spa and four straps so you can lock the cover down.
All Rayner Premier Series Spa Covers Feature:
4" to 2.5" taper for efficient water run-off
Heavy Duty Inner core wrapped in 6-mil polyethylene vapor barrier to prevent moisture absorption
Waterproof underside energy shield that is UV, mildew and rot resistant
Triple-reinforced handles with webbing inside
Continuous hinge seal plus steam stoppers
Heavy-duty 16-guage aluminum channel
Inside handles for easy lifting
5-year manufacturer's limited warranty