Swimming Pool Liners & Vinyl Tank Liners
Ameri-Brand is your source for vinyl pool liners and tank liners. With decades of liner sales and manufacturing experience, a wide variety of lining products, and competitive liner pricing, we've got what it takes to help you line your pool, water storage tank, or custom liner project. Find the perfect Above-Ground Pool Liner, In-Ground Pool Liner, Tank/Cistern Liner, or Retrofit Vinyl Liner today.
Quality, 20-25 gauge above-ground pool liners at wholesale discount prices. All aboveground pool liners backed with a 15 year limited warranty. And with our large variety of beautiful pool liner patterns , you're sure to find one you'll love. Our online pool liner calculator and abundant pool liner resources take the worry out of ordering and installing your new above ground liner. Simple above-ground pool liner measuring and installation instructions make it easy to save $100's with do-it-yourself installation. In addition, can call our professional support staff to helps make your above ground liner installation a huge success.
Custom inground pool liners designed to fit inground swimming pools of all shapes and sizes. Each of our liners combines quality virgin vinyl with over 24 years of liner sales & tech support experience and decades of liner manufacturing expertise. Every inground pool liner Ameri-Brand sells is guaranteed to fit. Our innovative, pool liner calculator makes it simple to get an in-ground liner quote and place your order online. Many inground liner patterns to choose from, available in 20 mil and 30 mil thickness. Save Hundreds, if not Thousands, of dollars on a new liner with our low prices, simple do-it-yourself liner measuring, and easy homeowner installation.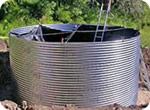 Potable tank liner allow structurally sound tanks to hold water again regardless of cracking, leaks, rust, etc. These 25 mil, potable white vinyl liners are designed as a homeowner installed retrofit to extend the life of existing water tanks and water storage cisterns. The tank liner's waterproof barrier stops leaks and prevents contamination from the existing tank walls. Liners easily mount to any tank using liner "overlap" or "bead and track" methods. Our FDA approved, potable vinyl safely stores drinking water and is free of time-release antibacterial and anti-fungicidal agents found in normal pool liner vinyls. Tank liners are custom-made to fit your exact tank dimensions for the best fit possible. Online tank liner pricing available.