Sorry, we are no longer making TMI Save-T Vinyl & PVC Strip Doors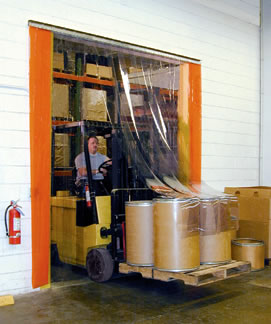 Ameri-Brand Products is proud to introduce its newest product line: TMI Save-T Vinyl Strip Doors. These durable, PVC strip doors are the most economical solution to protect employees and goods. Strip curtains allow easy access to walk-in freezers, refrigeration units, warehouses and other controlled areas that require insulation and protection from adverse environmental conditions such as noise, heat, cold, humidity, dust, and drafts. The plastic flaps are available in USDA Low Temp material often used in farming, food service, and other industrial applications.
In order to meet the demanding requirements of today's industrial and commercial marketplaces, our inventory of TMI Save-T Products is constantly being updated. Our sales staff can handle your everyday needs or your most troublesome problems. We offer complete Vinyl Strip Door Kits for easy do-it-yourself installation and our online strip door calculator makes it easy to find the right door for any commercial or residential situation. Ameri-Brand also offers clear bulk pvc/vinyl by-the yard for smaller projects or by-the-roll for larger scenarios.