Ameri-Brand Endless Pool and Swim Spa Rooms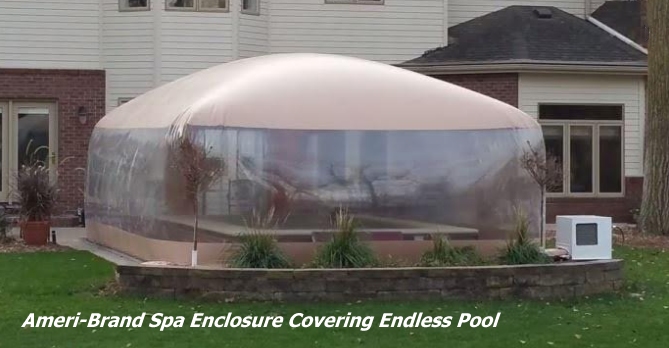 Covering your Swim Spa or Endless Pool has never been easier with an Ameri-Brand Swim Spa Enclosure.They are the perfect enclosure to provide cover and shelter in a beautiful and economical manner. Ameri-Brand Swim Spa Enclosures are one of the many innovative cover solutions brought to you by Ameri-Brand Products, THE recognized industry leader in manufacturing vinyl pool and spa covering solutions. We encourage you to take a look at our latest product. Be sure to check the details on this page. We hope you'll be impressed with what you see.
| | |
| --- | --- |
| | From a design standpoint, our Ameri-Brand Swim Spa Enclosures are practically identical to our internationally acclaimed line of Ameri-Dome swimming pool enclosures. However, this new unit is much smaller than the typical swimming pool dome enclosure. We also have designed a low cost "Airlock" entry system for this product. It allows for easy entry and exit of the enclosure withour the risk of losing excessive air. When combined with our Ameri-Dome Heater / DeHumidifier the Ameri-Brand Endless Pool & Swim Spa Enclosure will allow you can to enjoy your swim spa ALL YEAR ROUND. Custom sizes are available. |
Some Benefits of our Swim Spa Room Enclosures
Easy Installation on a concrete surface. (Requires about 6 to 8 hours)
Custom Sizes available. Each unit is manufactured as ordered
4 Colors to select from.
Clear walls allow you to enjoy the outside view while being inside.
Economical to operate. Usually less than $25.00 per month!
Withstands winds Up to 50 MPH with unprotected exposure.
Will stand up to 30 pound snow load (when spa is heated and cover is open.)
Can be deflated when not in use. Inflation is typically less than 15 minutes.
Dual Zippered Entry Airlock System is lockable.
Removes easily and stores in a small area.