Styles of Vinyl/PVC Strip Doors
| | |
| --- | --- |
| | |
| Smooth Vinyl Strip Doors | Ribbed Vinyl Strip Doors |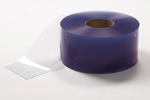 Smooth Vinyl Strip Doors:
Smooth vinyl strip doors are designed with a smooth finish and are ideal for low traffic and environmental separation applications.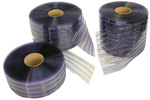 Ribbed Vinyl Strip Doors:
Ribbed vinyl strip doors reduce drag on loads. The raised ribs on 2" centers cause the equipment moving through the door to impact the rib first instead of the smooth flat surface of smooth strip. This keeps the vision area on the ribbed strip clearer longer, resulting in increased visibility through the strip over time.