The Save-T Lock Difference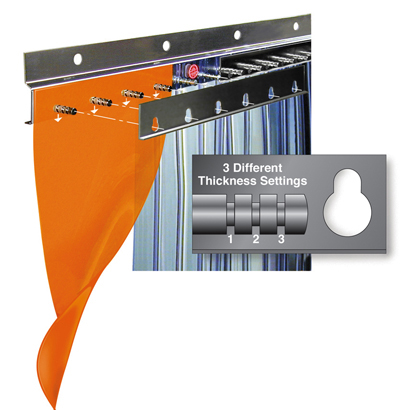 This patented hardware reduces installation time by as much as 75%. Mount the hardware, attach the PVC strips and lock the retainer bar over the pins. The included Save-T Loc tabs are used to ensure that strips do not come loose in two-way traffic. Strips thickness can vary from .060" to .500".
The TMI strip doors we offer hold many advantages over other strip doors you may find, such as:
The mounting system spreads the pull of the strips out evenly throughout the door. This helps to keep the strips from ripping, ensuring a longer life of the door system.

Providing the best clarity in the industry thus making them the safest strip doors.

The ability to be installed in only minutes, saving you time and energy.

Saving hundreds of dollars in energy costs every year with the protection these doors provide.
TMI only manufactures 100% DOP-Free and Tin-Free flexible PVC materials. TMI uses DINP, a safer alternative. All of our PVC compounds and resins are manufactured in the USA. Current manufacturers that may attempt to offer both DOP and DOP-free plasticizers will be unable to avoid cross-contamination via their extrusion equipment. TMI has also pioneered the development of non-phthalate PVC products that comply with the most stringent domestic and European legislation.
Did you know strip doors are green products? Strip doors can cut hundreds of dollars off energy bills each year and help reduce the amount of energy needed to keep your company running. And it does this while improving working environments and increasing employee comfort.