What You Get with TMI Strip Doors
TMI Exclusive Galvanized steel Save-T Loc mounting hardware
Standard Wall Mount - 3', 4', 5', 6', 8', 10' Lengths
Please note: When using the wall mount it needs to overlap the door. Please add several inches to the actual width of your door. Wall mounts are reccomended for 4 inch and 6 inch doors
Standard Header Mount - 3', 4', 5', 6', 8', & 10' Lengths
The TMI exclusive Save-T Loc universal mount hardware can be mounted to either the door header or the wall directly above the door.
Clear door strips with Save-T orange end strips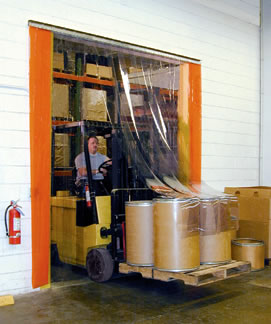 The clear PVC strip material ranges from .060'' to .160'' in thickness and is available in either Standard grade or USDA Low Temp Reinforced grade. The temperature range for standard grade strip material is -20°F to 150°F and low temperature material is -40°F to 140°F. The Save-T orange end strips are door jam indicators to help personel and lift drivers know how much room they actually have on either side as they approach the door.
Complete Installation Instructions
Every TMI Save-T Strip Door from Ameri-Brand comes with detailed installation instructions to make installing your new strip door very easy. The instructions contain detailed information about strip placement and the proper overlap amounts. See basic installtion instructions for an overview of the installation process.