Swivel Brackets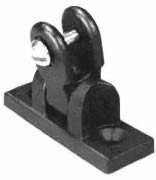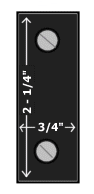 Now This is Well Worth Reading!
Many of the unique items we sell on the Internet come directly from our customer requests. Well folks, with your input, we've done it again! We're proud to include our Exclusive Cool-Kit with every bimini top we sell.
The Cool-Kit
The Ameri-Brand Cool-Kit comes with swivel brackets (shown above) and mounting shims (shown below). It's the solution to every bimini top purchaser's worst nightmare. Imagine this: You finally decide where you can get the Best Deal on a New Bimini Top for your boat. You measure your boat to be sure what frame size is correct for your boat, then select a fabric and color that best fits your situation, decide on any needed accessories, verify shipping times, double check the warranty, and finally you place your order with someone you feel comfortable with.
The Top arrives and You're Feeling Good! Opening up the box verifies that you made a good decision to buy your new top on the Internet. You begin to assemble the top as shown in the directions.So far so good! Then comes the time to mount it to your boat. Holding it up in place, you determine exactly where it needs to be installed. Comparing the mounting surface with what you have to work with on the bimini top reveals the nightmare. There's no way this top is going to fit your boat with the stuff that came in that kit !!! Now what? You could bend the frame a bit maybe (not recommended), call the company back that you bought it from and have them FedEx you the correct brackets (not in this lifetime), run down to the boat shop and pray that they'll have something that will work on your boat (that doesn't have to come off one of their display boats), or you could have avoided the whole dilemma by Ordering your top right here at a Great Price and receiving with it our Exclusive Cool-Kit for Free!
OK. Now that we've put you through all this trauma, here's what the Cool-Kit is. It's a complete package of specially designed mounts that allow you to mount Your New Bimini Top on ANY of the surface types shown in the diagrams below. We even include extra pieces that would allow you to further modify the mountings should you require them.
Cool-Kit Mounting Shims
Why take a chance? With Ameri-Cover you receive the Finest Quality and Best Selling top on the Internet, Great Service and Prices, and now our Exclusive Cool-Kit!