Ski & Wakeboard Tower Boat Covers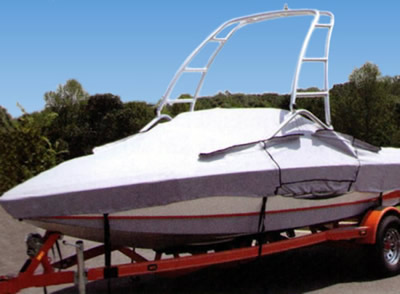 Prices for Boat Towers Covers
Prices for All Semi-Custom Boats Covers
Tower Boat Cover Details
| | |
| --- | --- |
| Rope Ratchet: | These covers are specially designed to provide an excellent fit for boats with wakeboard and ski towers. The unique design of these covers allows them to be secured over the boats without tower removal or alteration. Each cover comes complete with 2 Draw Ropes + Rope Ratches (one on either side of the cover). Rope ratchets enable the user to put the draw rope exceptionally tight for a better fit. They also enable easier placement of the cover by a single individual. |
Accommodations for the tower legs are made by twin velcro slots provided on both sides of the cover. These velcro slots are 5 to 6 feet long and provide enough room for 98% of the towers on the market. Velcro strips are a full 2 inches wide and so strong that they allow the cover to be installed while the boat is being towed! Patterns are available for Tournament Ski Boats, V-Hull Runabout Boats, and Deck Boats with Ski and Wakeboard Towers.
Heavy Duty, 2-Inch Wide Velcro Strips: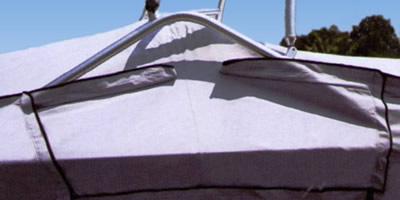 Additional Boat Cover Features
8 oz. Solution Dyed Marine Polyester. Available in 10 Different Colors.
Double reinforced tie-down loops (3 foot spacing) to secure the cover
FREE Tie-Down Kit with every wakeboard tower boat cover.
FREE Storage Bag for the cover when its not in use.
All seams are 4 ply, double stitched, and have No raw edges exposed.
This prevent fraying and fabric separation along the edges.
Weather resistant anti-wick thread used throughout in construction.
Each Boat Cover includes a warranty certificate.