AquaShield Pool Enclosures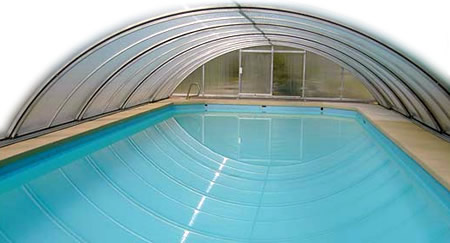 Aqua Shield™ Pool Enclosures combine elegant design with cost-saving functionality, creating the perfect enviroment to enjoy your inground swimming pool year-round. Each telescopic panel combines heavy-duty, twin-walled, polycarbonate sheets with one-piece, seamless, aluminum frame arches for strength, beauty and easy operation. When fully expanded, the panels create a watertight seal and the dome that is formed traps solar energy as heat for a comfortable, maintenance-free swimming pool environment. However, on warm sunny days or beautiful stary nights you don't want to be closed up inside a structure while swimming. In these moments, the ingenious telescopic design allows the panels to slide aside, opening up the pool to the outside world.
At Ameri-Brand, we were so impressed by Aqua Shield's Pool Enclosures that we chose them as a quality replacement for our discontinued pool enclosure line, the Alumaroom. Following the Ameri-Brand philosphy, AquaShield™ Pool Enclosures are manufactured in the US, and are made with the highest quality materials produced by General Electric and Alcoa Aluminum. The enclosure's simple design is attractive, strong, and provides additional pool safety. Easy to assemble; Save Thousands with "Do it Yourself" installation! On top of all that, Aqua Shield™ enclosures are guaranteed by a 10 year warranty.
Some Benefits of Aqua Shield Enclosures
Enables year-round swimming in many areas.
Panels close for winter months and open for the summer.
Keeps bugs, leaves, and debris out of the pool area.
Eliminates Wind Chill when closed.
Polycarbonate covering diffuses Harmful Sun Rays.
Extends the Life of Pool Liners.
Doubles as a Safety Fence, limiting access to the pool.
Saves on pool chemicals, heating costs & water loss.
Heavy-duty aluminum framework and seamless arch system.
Ships in modular pieces for simple, "Do it Yourself" installation.
Virtually maintenance free.