Tank Liner Thickness: Gauge vs. Mil
What's the difference? What does it mean in inches or mm?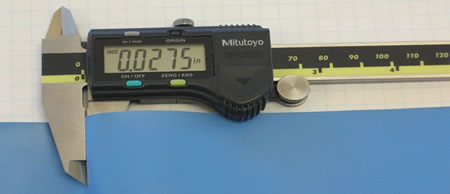 Finding the right liner for your tank is difficult enough without having to worry about the thickness of the material (vinyl) that is being used. Most tank professionals can't even tell you the official difference between vinyl gauge and mil measurements. What's worse, the unit "gauge" doesn't always mean the same thing from one industry to the next. For example, when measuring items like wire, shotgun barrels, sheet metal, and hypodermic needles, the thickness or diameter increases as the gauge decreases (they are inversely proportionate). While for sheet vinyl, used for tank liners, and photographic film, the thickness or width of the material increases as the gauge increases (they are directly proportional).
Luckily, all you have to worry about right now is vinyl gauge and mil as they relate to tank liners. For your convienence and better understanding, Ameri-Brand has researched mil and gauge standards and compiled information from manufacturers across the vinyl industry. The table below shows a side-by-side comparison of mil and gauge sizes that are commonly used for vinyl liners. You will also see the "average thickness" of these materials in the standard measuring units of inches and millimeters. You may be suprised to learn that each of these common liner thicknesses is thinner than a small piece of American coinage, the dime.

Common Liner Units
Liner Thickness (avg.)*
Mil
Gauge
inches
mm
Dime (for comparison)
0.0490
1.2446
*Averages based on multiple measurements, taken from vinyl samples provided by multiple liner manufactures and vinyl suppliers. Digital calipers (shown above) were used to take all measurements.