Water Tank Liner Flange Installation
Installing the Ameri-Brand (part # AB-14080 ) wall fitting.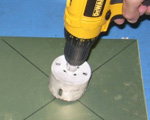 Step 1. Making The Mounting Plate.
Purchase a piece of 20 to 26 gauge galvanized steel approximately 10" x 10". (The lower the gauge the thicker the metal) Using a circular hole saw, cut a 3" hole in the middle of the galvanized steel.
---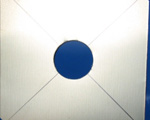 Step 2. Preparing the Mounting Plate.
Using a pair of tin snips, clip the corners of your 10" x 10" piece of steel in order to reduce the risk of the sharp corners puncturing your liner or worse yet, yourself.
---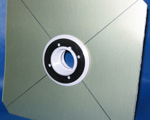 Step 3. Installing the Fitting.
Place Part 1 of the fitting (AB-14080) inside of the hole you've drilled in the plate. The black rubber gasket faces into your tank.
---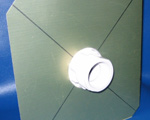 Step 4. Installing the Fitting (Continued).
Place Part 2 (the retaining ring) onto the threaded shaft that will be facing outside of the tank. Screw the retaining ring tightly on the fitting to prevent it from rotating.
Make either a rectangular or circular hole in your tank at the exact location where you want the fitting to be. The hole in your tank should be somewhere between 5" x 5" and 6" x 6". Mount your steel plate onto the tank at the location where you've made your hole.
Be sure to use non corrosive fasteners that WILL NOT puncture your new liner.
---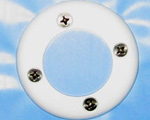 Step 5. Hanging the Lining.
Hang your new liner in the tank. Fill the tank with water to a point a couple inches just below the newly installed fitting.
Secure the face plate on the fitting. (There are alignment tabs built onto the fitting to help in aligning the face plate ring. Feel through the liner and match them up.) Screw in the screws very tightly to get a good water seal.
---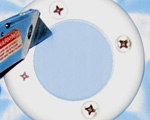 Step 6. Removing the excess Liner.
Cut out the liner that is placed in between your retainer and your face plate ring.
---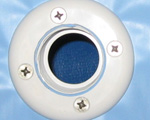 Step 7. Completion.
The fitting is threaded for a standard 11/2" pvc pipe coupler. Complete any additional plumbing needed to finish the job and then continue to fill your tank.