Aluminum Slide Tracks & Mounting Hardware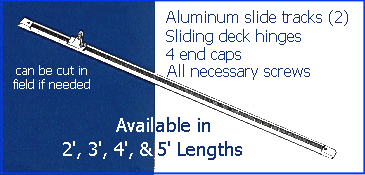 Aluminum slide tracks are a great bimini top accessory for people who need to move their shade from bow to stern (or visa-versa). This comes in handy for shading fore or aft seating while fishing, mooring, or at anchor. Often times, the seat you use to drive a boat is not the same as the seat you want to use for fishing, napping, etc. Mounting your bimini top to slide tracks allows you the flexibility of relocating your top as needed.
This bimini top accessory is available upon checkout with the purchase of a new bimini top. Slide tracks are available in 2', 3', 4', and 5' lengths. If necessary, the aluminum rails can be cut down in the field, during installation.