Sun Domes for Soft-Sided Pools
Nearly Every Shape, Size, & Brand
We offer a HUGE SELECTION of Fabrico Sun Domes for Soft Sided Pool. Our extensive online database includes brands like , Advantage, ALL, Chois, Doughboy, INTEX, KD, Legacy, Quick Pool, Splash, Splash-A-Round, Tuff, and more! Even if you don't see your pool in our online search, we can still get you a quote based on details about your pool. Find Sun Dome Prices today...
Inventing Sun Domes for Soft-Side Pools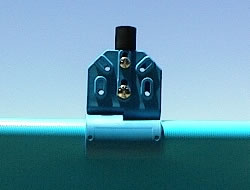 The Sun Dome for soft-sided above-ground pools is yet another example of Ameri-Brand innovation! Just like when we developed the screen dome, this project began with repeated requests for a pool dome that would work with soft-sided pools. In order to better serve our customers, Ameri-Brand invested thousands of dollars and countless hours developing and testing a proprietary dome bracket for side-side pools. The result? An adjustable dome bracket which securely clamps onto the pool's top rail without altering or damaging the soft-side pool liner. It is so effective, we actually manufacture these brackets and sell them to Fabrico to use with all their soft-side pool domes!
We proudly offer these unique Above Ground Pool Enclosures for most Soft-Sided Pools (a.k.a. "Bladder pools" or "Liner pool"). Fabrico dome units are well known throughout the pool industry to be an excellent way to cover your pool and greatly extend the swimming season. With your choice of Vinyl or Screen material, these enclosures are perfect for keeping out leaves, mosquitoes, and other bugs from your pool. Our enclosures also help to heat your pool's water and saves greatly on water evaporation & Pool Chemical usage!
Sun Dome Details
One of the best things about our Pool Domes is it's simple yet effective design. Our complete kit contains all the parts needed to install your soft-sided, above-ground pool enclosure. You will receive our own proprietary brackets, the 1" diameter anodized aluminum framework which is easily installed by the average homeowner, and all mounting hardware. A complete installation manual is also included with each dome kit.
Each unit has one zippered door opening. The vinyl units have either two or three screened windows for ventilation. The larger units have three windows and the smaller ones have two. The screen covers do not come with windows as ventilation is readily available. Although our domes will allow you to start swimming much earlier in the season and extend the latter part of it, they are not designed to support snow load or withstand extremely heavy winds. The cover can be easily removed for winter storage. Some folks remove the entire framework to allow for the placement of a full winter pool cover during the winter.
You have your choice of a Vinyl or Screen cover to spread over the assembled framework and secured in place with aluminum hooks that fasten to each upright on your pool. Tie-Downs are used to secure the cover to the hooks at regular intervals. HOW TO INSTALL: Dome Mounting Methods may differ from Pool Brand to Pool Brand. You may be asked to provide photos of your pool "Top-Rail" along with dimensions (we'll provide the measuring instructions) in order to make a dome for your specific brand and model of pool.