Boat Cover Accessories
The Ameri-Pad
Now any boat owner has the ability to customize the padding on their boat cover by adding Ameri-Pad Boat Cover Protection Pads EXACTLY where extra padding is required. Protects not only your cover at the "High Wear Points", Ameri-Pads will also protect your boat and other protruding accessories from the effects of boat cover abrasion. Available in the following sizes: 10" x 6", 10" x 12", & 10" x 24" to suit many various applications.
Sizes:
Small
10" x 6"
Medium
10" x 12"
Large
10" x 24"
Prices:
$7.63 ea.
10.75 ea.
$18.88 ea.
Does not include shipping or any applicable sales tax.
Each Ameri-Pad is made from a full 1/4" THICK, GENUINE FELT and comes with the adhesive already bonded to the pad. This adhesive is protected from contamination and premature drying with a peel-n-stick backing which is then removed prior to its installation on your cover. Our specially formulated adhesive is water-proof and forms an excellent, permanent bond of the Ameri-Pad to your new boat cover.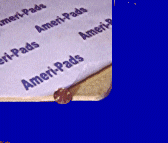 Easy application: Installation is easily accomplished by locating the appropriate placement for the pad on the underside of your boat cover. Remove the peel-n-stick backing on the pad and press the pad firmly in the desired location. Apply heat to the pad through the cover with a hand held hair dryer on the highest setting. 10 to 15 seconds in each area is usually sufficient. While the adhesive is being activated by the heat, press down firmly on the pad through the cover to help form a permanent bond of the Ameri-Pad to your new cover. As the adhesive cools, the bond becomes stronger. Do not "test" the adhesive prior to cooling of the fabric and the pad. As the cover is used, pressure is applied to the Ameri-Pad and the bond continues to strengthen over time.