Pool Liner Repair
Must See!
Liner Bead Popped Out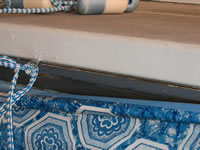 Swimming pool liners don't typically pop out without cause. There are two main reasons why your liner may have slipped the track. First, your liner may fit poorly or be incorrectly sized. Upon initial installation these liners are often coaxed to fit up in the track with some patience and a lot of extra pulling and tugging. However, as vinyl liners age over time they lose some of their elasticity. Combine this with slight contraction of the material in cold weather and/or the "floating effect" of a rising ground water-table during winter rains and a poorly fitting liner can easily pop the track. Second, an old liner track may be stretch out and no longer holds the track as tight as it once did. Or you may have a combination of these two problems.
| | |
| --- | --- |
| | The Fix: "T-Lock" or "Liner Lock" is a often a simple answer for fixing this type of problem. Learn more at our What is T-Lock page and for cost and ordering information see T-Lock Prices. Also, next time you are in the market for a new pool liner, consider a custom pool liner made to your pool's exact dimensions for superior fit, quality, and longevity. |
Cuts, Tears, & Rips from Sharp Foreign Objects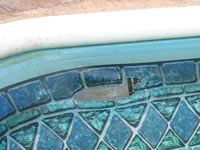 Although we do the best to protect our liner from sharp objects, between mother natural, pets, human error, or vandalism sometimes "life happens." Even pool experts are not immune... Our pool store manager experienced this when his little boy threw a metal object in their pool. Even worse, he only learned of the problem after the automatic pool sweeper had dragged it around the pool floor a few times. For larger tears, especially those just above the waterline, please see the next section)
| | |
| --- | --- |
| | The Fix: Luckily, small cuts or tears don't have to be a major headache. A simple pool liner repair kit can be used to repair most small holes, cuts, tears, or punctures (even under the water's surface). |
Failure Above the Waterline from Sun & Aging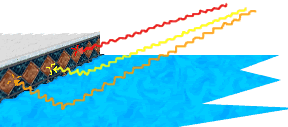 Although there are various reasons a liner can fail, by far the most common cause (about 80 to 90%) of swimming pool liner failures occur Above the Waterline. This is due to the afternoon sun reflecting across the top of the water & hitting the far side of the pool wall. When this happens, the ultra-violet (UV) rays are actually reflected and "Fry" the liner above the waterline as that portion of the swimming pool liner is not water-cooled. Another major cause of premature liner failure is water to chemical imbalance for prolonged periods of time.
Large liner failures above the water liner can often spell death for and send you shopping for a new liner. Large blue patches from liner repair kits can look tacky at the water line and can fail trying to support the weight of the entire liner wall. Fortunately, Ameri-Brand had created a unique solution to repairs these types of failures, improve the aesthetics of your old liner, and significantly increase it's life span.

(Click Image Below to Enlarge)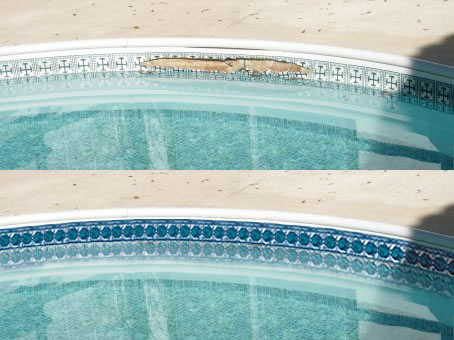 The Fix: Ameri-Shield
Curious if Ameri-Shield Will Work For Your Situation?
Email us pictures to info@go-ab.com
The Ameri-Shield is a 10 INCH TALL piece of vinyl with "T" Lock heat sealed to the top edge of the vinyl. The Ameri-Shield is secured into your existing liner track via the "T" Lock system. It's is locked into place by tapping the "T" Lock firmly into the small slot above your liner bead with a small block of wood and a small hammer. (This also helps lock your liner into place.) It's very similar to the process used to rescreen a window screen except the "T" Lock is a different profile and helps hold the Ameri-Shield in place while the adhesive is applied. The Ameri-Shield is then glued around the perimeter of the pool to the liner wall and reaches down into the water a few inches. The adhesive we supply is not anything like the pool patch kits you can find online or at a local pool store. This is true COMMERCIAL GRADE glue. Once it goes on, it's not coming off easily! Ameri-Shield installs in minutes and can prolong the life of aging liners (possibly for years) until you are ready to replace the liner.
Also, when used to reinforce a new liner, Ameri-Shield is an inexpensive method to Greatly Extend the life of your new pool liner. As many of you already know, Ameri-Brand works very hard to offer new ideas and products to our customers and the response to this product has been Exceptional! For available patterns and cost information, see Ameri-Shield Prices and Ordering.
Other Pool Liner Repair Issues and Questions
The repairs above are some of the most common problems people face with their inground pool liner, not a comprehensive list. If your problem was not addressed, we still may be able to help or at least make a recommendation. Ameri-Brand has been selling custom, inground liners on the internet and locally for over 24 years and there's not a lot we haven't seen.
For the best possible consult, please contact us. After following the preceding link and submitting your contact information you'll receive an email with the option of uploading digital pictures of the liner problem, which often makes all the difference. With your pictures in hand, we can make much more educated suggestions about possible fixes or liner replacement (as needed). You can also call us, toll-free, at 1-800-982-6966, but remember "pictures are worth a thousand words."