Sport Dome Installation
The directions below will give you a relatively good idea of what it takes to install a sport dome so that you can play your favorite sport all year long without having to build an entire building to play in.
---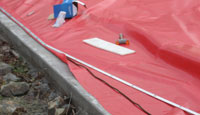 Since the sport dome is an inflatable structure you will need something to anchor the dome to. This could come in one of two forms: a concrete slab or a concrete footer. It is necessary to anchor the dome into concrete so that it is able to withstand higher wind speeds during winter storms. The dome is held in place with concrete anchors (Redheads) which are spaced aproximately 1 foot apart from each other. The spacing may vary based on the size of the dome. The dome itself is then held down with a aluminum based track which runs around the entire perimeter of the Sport Dome.
When deciding where to place the concrete slab or footing keep in mind that this is an inflatable structure and will sway a little in strong winds. This means that the placement of the concrete needs to be 6 feet from any obstacle that could puncture the dome (buildings, structures, trees, etc.) on the short walls of the dome and 8 feet on the long walls.
Installation time can vary depending on how large the dome is and how many people are working on the job and weather conditions. Average install time is 1 to 2 days. This means that it can be easily be put up in a single weekend with friends and family helping.
---