Sport Domes for Construction
---
Playing sports during the winter is not the only application for the sport dome. In the past our customers have used our pool dome enclosures to complete pool construction during the winter months when they needed a dry atmosphere. Once the dome was anchored and inflated it gave them ample dry space to complete their job in a timely manner.
Considering the newly conceived size capabilities of the sport dome we had to also reconsider the possibility of in-dome construction. The sheer size of our sport dome allows for much larger scale projects to take place inside. If you need a large space in which you are out of the winter elements for construction take a look at our sport dome. It could be a cost effective alternative to postponing construction. Click on the images below to see our pool dome customers in action.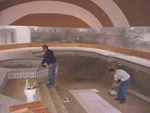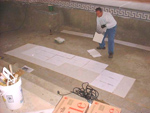 There are so many more options and other uses for our inflatable Sport Domes. In the past people have used inflatable structures like this one for portable livestock housing, showrooms, storing excess inventory, and horse riding arenas. Some have even used them as water treatment facilities. The applications for the inflatable Sport Dome are practically endless with a little imagination.