Additional Airlock Entry Systems
---
Every Sport Dome already comes with one "L" zipper and one Airlock System, but sometimes one Airlock is not enough. If you are in need of moving people in and out of the dome faster than you can achieve with only one Airlock then we have a solution for you. At Ameri-Brand we offer additional airlocks which can be installed anywhere around the dome walls except directly on a corner for an affordable price. Each additional airlock costs $2,350.00 plus shipping.
Concept Behind the Airlock Entry System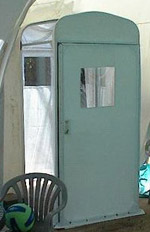 At Ameri-Brand Products Inc., we are blessed with the aptitude and capacity for solving problems that come along, as well as improving upon ideas that already exist. A great example of this ingenuity is The Airlock Entry System. Before we invented the airlock, there were only 3 ways to get in and out of inflated dome structures: the standard zipper, the "L" zipper, and the rotary door. These entries can create problems for Emergency Medical Services (EMS) when responding to emergencies that may occur inside the dome. How do you get someone on a backboard through a zipper or rotary door? These entries also made it difficult to move decent amounts of people in and out of the dome in a timely fashion.
With these obvious concerns in mind, it's easy to see where the idea for larger, ADA compliant (handicap accessible) entry system came from. Ameri-Brand Products Inc. invented the Airlock Entry System with the consumer in mind to increase dome entry safety, increase accessibility, and reduce costs. Airlocks are made of aluminum, unlike steel rotary doors, making it much more corrosion resistant. The materials and the frame structure make the Airlock Entry System much lighter, resulting in less shipping charges, easier handling, and ease of installation (see airlock installation video, approx. 2 min).
Size & Dimensions
The Ameri-Dome Airlock Entry System provides an opening large enough for wheelchairs, backboards, and even small pieces of furniture to move in and out of the sport dome with ease. The outside dimensions of the airlock's base are 4' x 8', with a max height of 89 inches. The inside dimensions of the airlock (room suitable for moving people and objects) are 46" wide x 76" tall.