Wrong type of pool? See inground pool liner installation instructions.
The liner IS NOT a structural part of the pool. Its only function is to keep the water from leaking out of the pool. The water pressure is held by the pool wall and structural parts, not by the liner. The line must be installed properly with all the areas touching the ground, earth mound, pool wall and not supporting the weight of the water, which will damage the liner.
Slight wrinkles appearing during the installation of a pool liner is natural. This is caused by an over allowance of vinyl material to avoid damage to the linear if shrinkage should occur.
Smooth out the floor of the liner by pushing it toward the pool wall. A soft broom will be helpful. Never forcefully pull or drag the liner.
DO NOT STRETCH YOUR LINER!
THIS WILL AUTOMATICALLY VOID THE WARRANTY.
(see illustrations below)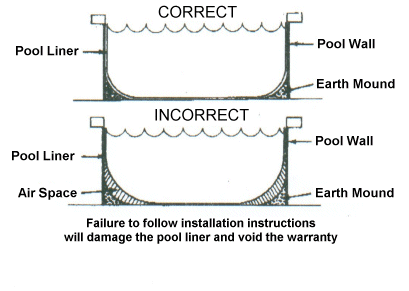 Examine the liner to make sure there is no opening in the seam, before filling your pool.

Make sure that you put your earth mound around the bottom of the wall to protect he liner from touching the metal frame.

Lay out the liner inside the wall properly with all the areas touching the ground, earth mound and pool wall. Do not stretch your liner, see diagram above.

Hang your liner over the wall making sure that there is no tension on the liner.

Follow instructions in your pool manual about how to set up the liner.

ATTENTION HOME OWNER: BE SURE TO ATTACH "DO NOT DIVE" STICKER TO YOUR LINER TWO INCHES ABOVE THE WATER LEVEL SO IT IS CLEARLY VISIBLE.