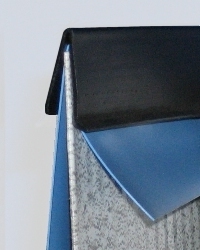 Overlap Pool Liners:
Typically range in size between 48" to 52", but also include expandables pool liners up to 72". On these types of pool, the liner goes up and over the top lip of the pool wall. It then comes down over the edge on the outside of the pool. The liner is normally secured with some sort of clamping method that holds it in place. Any adjustment that may be needed on the wall height of the liner is made by removing the clamp(s) and either letting in or pulling out more of the liner.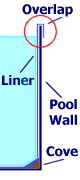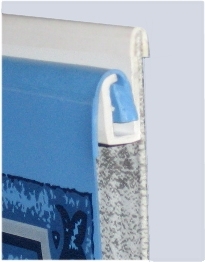 Beaded Pool Liners:
Beaded liners come in 2 sizes, 48" & 52" wall heights. If there is any height adjustment that needs to be made, this needs to be done by removing or building up the height of the "cove" located at the base of the pool wall within the pool. Cove is available in "wedge" shaped styrofoam or sand can be used by compacting it into the corner where the wall meets the floor. PLEASE NOTE: Not all liner beads are the same! We have a list of available bead styles that include Kayak™, Esther Williams, Universal (U-Bead), Wilkes, and our "standard bead," shown below.
Our Liner Bead: