We Make Custom Sizes!
If you're having trouble locating an above ground liner to fit your pool, we have an answer for you. Normally, we can make a liner to fit your pool. We have a large selection of stock sizes, but we can also make custom sizes if needed. Over the years we've made hundreds of custom liners for unusual size and hard to fit pools.
Here's how to price a custom liner for your pool. Use our normal Above Ground Pool Liner Search until you reach the "Select Your Pool Size" page. If you do not see a size close to your pool, select the option "My size not shown, Show me more..."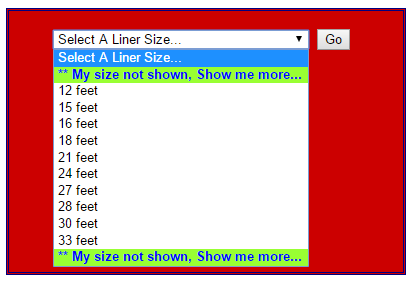 From there, just continue on with your search. After entering your pools dimensions, our system will automatically calculate the price for your custom liner. No hassle involved, just the way it should be. If you have trouble for any reason, call us at 1-800-982-6966. Our friendly and professional staff can help you through the process or take your order over the phone.